Getting Started Guide
Getting Started Guide
(Updated on )
Smartoo uses simplicity and functionality to make team scheduling quicker, easier, and more productive.
Here's how to get started:
Sign Up
Before we get into the good stuff, let's make sure that you already have an existing account. Visit our quick guide to learn about account creation and onboarding.
Done? Nice! Let's continue.
1. Add Existing Projects
Before bringing your team to the party, let's first have you set up where you left off. To add your current projects, follow these steps:
On your Schedule or Project dashboard, click the "Create Project" button on the top right
Fill in the necessary details and invite your team
Repeat until all existing projects have been imported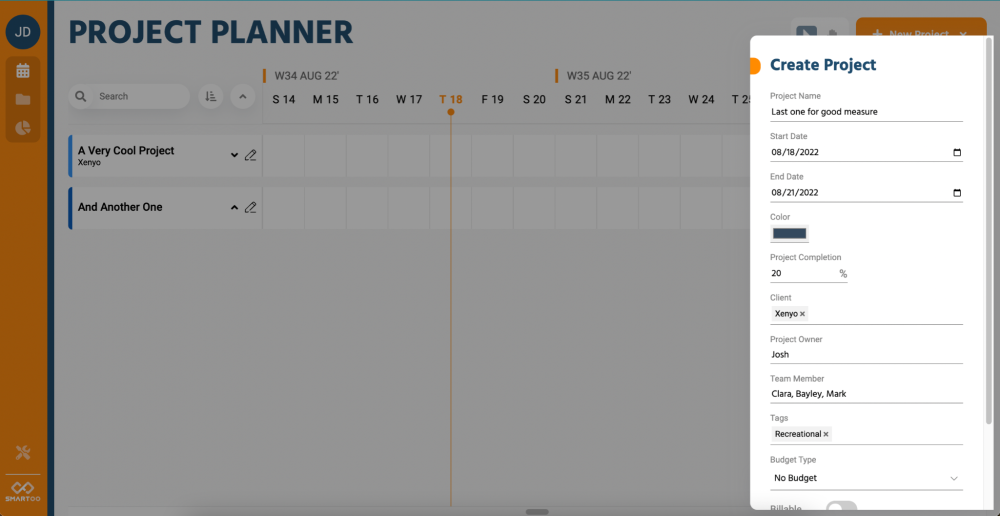 2. Create a Time Bar
Smartoo uses time bars instead of task lists. This accomplished 2 things. It helps you visualize each team member's workweek and helps everyone know the exact status of a project.
Choose a project on your dashboard
Click and drag from a starting date to the end date
Enter the necessary details on the pop-up window
Click Save
Editing a time bar is even easier than creating one! Follow these steps depending on which changes you wish to make.
Edit Time Bar Duration
Hover over the bottom section of a time bar
Drag the bar either up or down to change the number of hours
Change Time Bar Date
Hover over the center of a time bar
Drag and drop the bar to whichever date you prefer